Palace Apartment protected by UNESCO – next to Charles Bridge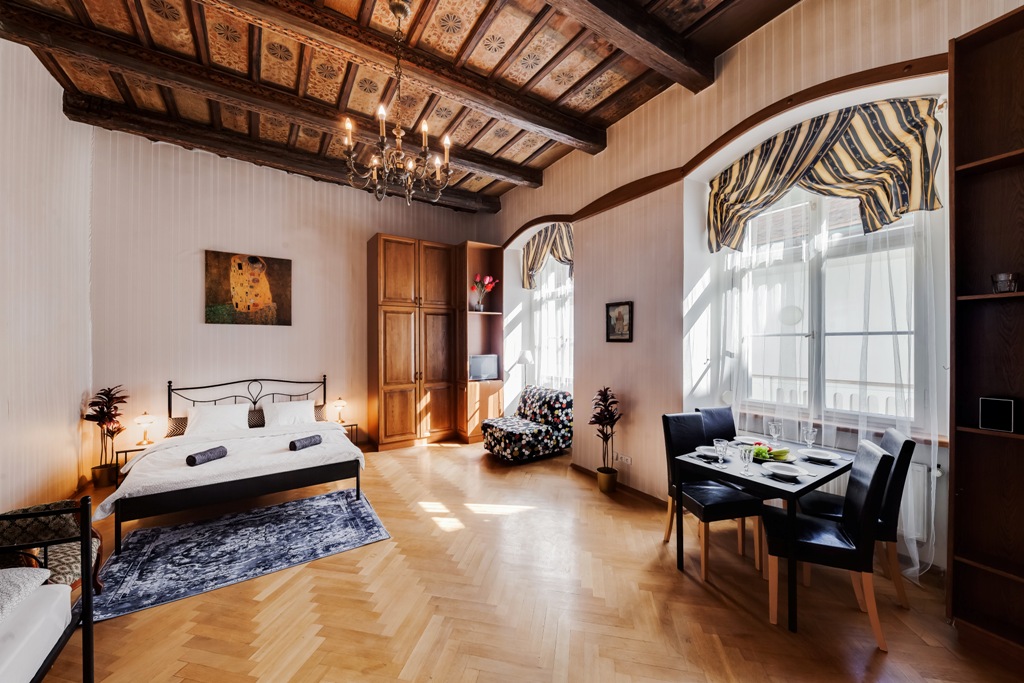 This beautiful fully furnished and equipped apartment protected by UNESCO is located in the historical center, in the building originally built in 13th century and reconstructed in 1585. The apartment with terrace in front of it is on the 2nd floor with round stairs (no elevator) and provides comfort to up to 4 persons. The building has a unique architecture with extraordinary historical elements, which decorate the building both on its exterior and interior. The apartment is located in Malostranske namesti 5, in the street which leads to Charles Bridge (only few steps) and is positioned between Charles Bridge and Prague castle. All of the most beautiful historical monuments of Prague are thus within your walking distance.
Malostranske namesti 5, Prague- Old Town, 110 00
The apartment consists of a bedroom with living area, dining table, kitchenette, bathroom, separate toilet and hallway. The concrete ceiling of the apartment is protected by UNESCO as world cultural heritage and is 4 meters high, so you can feel like back in 15th century. You can relax on the terrace in the courtyard and watch spires of St. Nicholas church. 
Enjoy a wonderful combination of historical charm and modern comfort in carefully designed apartment in the historical center of Prague. No need to even take the subway/tram/cabs as it's within walking distance of all the main tourist spots. If you turn to the right, just 1 minute walk to the Charles Bridge and few more minutes walk to the Clockwork at Old Town Square. If you look to the left, you see the Prague Castle and beautiful Malostranske square. 
The original gothic building was founded in13th century and reconstructed in 1585 into renaissance style. Tracing its foundations back 700 years, the building at Malostranské nám. 266/5 or  "U Glaubiců" has a long history of public and political life in Prague. The building is located beside St. Nicholas church just off the "Royal Way" and close to Charles Bridge. Brewmaster Lukáš established a brewery and open a "beer hall" in 1520. In 1665, Prague mayor Bartoloměj Glaubic z Bučiny purchased the building and since then it is called U Glaubiců.  
The apartment itself has the windows are onto inner courtyard. In the apartment is double bed with night tables, single bed (which can be also used as sofa), sofa convertible to bed, dinning table with chairs, original historical arm chair and wardrobe. 
The apartment  is equipped with free WiFi, TV, CD and MP3 player, refrigerator with freezer, dining table with chairs. The kitchenette  is equipped with a cooking-stove, oven, dishwasher, microwave oven, toaster, kettle, coffee maker, crockery and cutlery.  
The bathroom contains shower over the bath, washbasin, towel dryer, hairdryer, iron and ironing board. The toilet with towel dryer is separate. 

Right on the ground-floor of the building there is restaurant with 700 years tradition with typical czech food and great beer. There is an endless choice of restaurants, bars, cafés and bakeries in the neighborhood, in which you may sample both Czech and international cuisine. There are also numerous tourist sites in the area, charming craft shops. The ATM is at the entrance of the building. 
All the most beautiful historical monuments of Prague are within walking distance. 
Many restaurants, cafés and bakeries, in which you can sample Czech and international cuisine are located in this area, as well as numerous tourist sites and charming craft shops. 
The closest secured garage parking is located underneath the ' Rudolfinum Concert Hall ' (Alsovo nabrezi 11 Street), which is within few minutes walk (or 1 tram stop) or to the other direction Mr. Parkit, also few minutes walk (or 1 tram stop). 
The tram stop Malostranske namesti is 50 meters from the apartment. The metro station Malostranska is just 600 meters (or 1 tram stop). 
There is no better location for your accommodation in Prague!